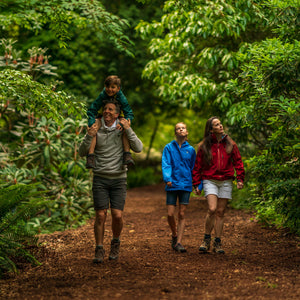 Purchase your tickets by using the drop-down menu. You can select multiple tickets and check out with all purchases together. 

You no longer need to register for a specific date and time. All winter 2022/2023 tickets expire on March 31st, 2023.

Hours of Operation:
Tuesday-Sunday: 10:00am-2:00pm.
Monday: Closed
*Garden may be closed due to weather or unforeseen circumstances. Please check our website for hours updates. 
**Greenheart TreeWalk is closed starting November 1st, and will reopen on April 2nd, 2024** Please visit our website for a complete list of our off-season hours here. 
IMPORTANT INFORMATION You will need to present your ticket and membership/UBC/UNA card (as relevant) on arrival. Tickets may be presented digitally on a mobile device or printed on paper. For sustainability reasons, we encourage digital tickets.
SPECIAL OFFERS We value our Health Care Workers and First responders and would like to offer you a 50% off discount off a yearly membership. To redeem this special offer please email garden.info@ubc.ca to provide a copy of your ID. Thank you for your service! UBC Alumni can use code "AlumniUBC" for a 50% discount on eligible tickets. Alumni Card must be shown at the time of entry.

If you would like to cancel or have any questions regarding admission tickets, please call us at 604 822 4529 (Shop in the Garden) or 604 822 3928. You can also email us at garden.info@ubc.ca and we will get back to you between Tuesday - Sunday 10am-4:00pm. Please note that refunds will be processed via giftcard, which you can use to book your next visit or at the Shop in the Garden. If you are sick or are experiencing symptoms related to COVID-19, please do not visit the Garden. Please contact us at garden.info@ubc.ca. You can check your symptoms on the BC Covid-19 Self-Check website.
Members and UBC Cardholders are required to show their membership or valid UBC card on entry. 
If you require assistance or have additional questions with purchasing, transferring or cancelling tickets, please contact garden.admission@ubc.ca or call 604 822 4529. Someone will contact you within the business hours of 10am - 4pm.
All children under 13 must be accompanied by a guardian over 18 years of age.
If you have any feedback regarding the ticketing system, please contact us at garden.info@ubc.ca.
 We look forward to welcoming you.