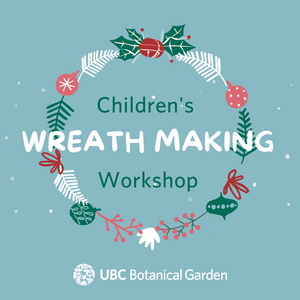 Come deck the halls and craft with us at the Garden. This hands-on workshop is perfect for children ages 6-12, who will be able to explore their creativity by crafting their very own handmade holiday wreath using plant materials from the Garden. Children will also be encouraged to add festive decorations to their creations! Additional holiday wreaths are for sale at our Shop in the Garden during the holiday season. 
Date and Time: Sunday, December 3rd 1:00pm - 4:00pm 
Location: UBC Botanical Garden, Reception Centre, 6804 SW Marine Drive  
Cost: $60.00 for one child and one adult (suggested ages 6-12) plus tax. Space is limited, only one registration per child. If you would like to participate as a family with multiple children, please ensure you purchase a ticket for each child attending.  
Important Notes: Children require one adult chaperone to attend the workshop. Staff and volunteers will help children assemble their wreaths. Adults who attend are there to support their child and will not have the opportunity to create their own wreath. Participants may be outdoors for brief periods of time during the workshop and the tour will be outside, so please dress appropriately for the weather including footwear suitable for all terrains. Light refreshments will be provided.  
Cancellation Policies: We do not have the capacity to change tickets for a different time or refund tickets. If the event is cancelled due to circumstances beyond our control, ticket holders will receive a gift card for the value of their tickets that can be redeemed for UBC Botanical Garden and Nitobe Memorial Garden admission and in The Shop in the Garden.