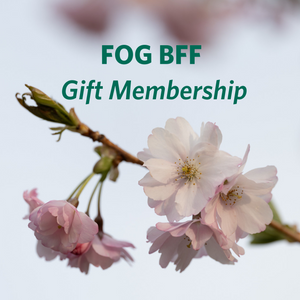 We know you are passionate about the Garden and enjoy spending time here. We also know that the Garden is more fun with friends. Spread your love for the UBC Botanical Garden with the gift of membership.
As a Friend of the Garden volunteer, we'd like to share with you a special offer just for FOGs. Give the gift of the Garden with special discounted rates on gift memberships for a limited time.
How it works: Purchase a gift membership before August 15th for an exclusive rate available only to FOGs. You can purchase an individual gift membership for $35 or two individual memberships for $55! There is also the option of adding the Greenheart TreeWalk to both options.
Learn more about the perks of membership: https://botanicalgarden.ubc.ca/visit/membership/
IMPORTANT NOTE: Please add the name, email address, and home address of the recipient in the notes field during checkout process.
This special offer is only available to Friends of the Garden volunteers.