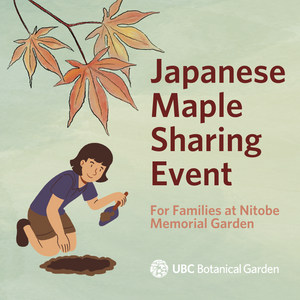 Bring home a seedling to grow a mini maple garden with us!
When:
1st Session: Sunday November 5th, 2023, 11:00 am to 12:00 pm

2nd Session: Sunday November 5th, 2023, 1:00 pm to 2:00 pm
Where: Nitobe Memorial Garden, 1895 Lower Mall, Vancouver, BC V6T 1Z4
Who: Children (aged 4+) and their chaperones
Cost: $10.00 plus tax and Shopify fees per child. Children require one adult chaperone to attend the workshop, but more are welcome to register.  Chaperones can register free of charge.
Our goal is to create programming that's accessible to all. If this cost is a barrier to participate, please let us know by sending an email to garden.programs@ubc.ca
Event Description:
Join us at Nitobe Memorial Garden to get hands-on experience with nature by nurturing your own maple seedling! This one hour child-oriented event involves transplanting a Japanese maple seedling to create a mini maple garden to bring home. Children will gently transplant mini maples from the Garden to a plastic pot and create a mini garden with mosses and pebbles. Along the way, children and their guardians will learn about Nitobe Memorial Garden and its unique maple species.
Join us to bring home a mini maple garden that children can watch grow as they grow!
Important Notes: Staff and volunteers will help children select, dig-up, and pot their maple seedlings. Adults who attend are there to support their child and will not have the opportunity to pot up their own seedling. Participants will be outside, with minimal shelter, and should be prepared to participate rain or shine.
Cancellation Policies: UBC Botanical Garden does not have the capacity to refund tickets. If the event is cancelled due to circumstances beyond our control, ticket holders will receive a gift card for the value of their tickets that can be redeemed for UBC Botanical Garden and Nitobe Memorial Garden admission, and in The Shop in the Garden.
Can I bring my dog? UBC Botanical Garden and Nitobe Memorial Garden are pet-free zones. Please leave all pets at home. Service animals are welcome.